Womens Rights Gallery
Available as Framed Prints, Photos, Wall Art and Gift Items
Choose from 1 pictures in our Womens Rights collection for your Wall Art or Photo Gift. Popular choices include Framed Prints, Canvas Prints, Posters and Jigsaw Puzzles. All professionally made for quick delivery.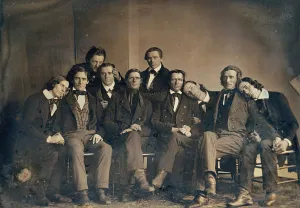 Featured Print
Hutchinson Family Singers, 1845. Creator: Unknown
Hutchinson Family Singers, 1845. The original members of the Hutchinson Family Singers were thirteen of the sixteen children of Jesse and Mary Hutchinson of Milford, New Hampshire. The eleven sons and two daughters made their singing debut in the late 1830s and at first sang sentimental, patriotic tunes celebrating the virtues of rural life. In 1842, however, they began to associate closely with the abolitionists, and soon their repertory of songs championed such reformist causes as temperance, women's rights, and above all, the abolition of slavery. Both praised and vilified by the press and public, America's first group of social protest folk singers performed throughout the country for more than fifty years.
© Heritage Art/Heritage Images